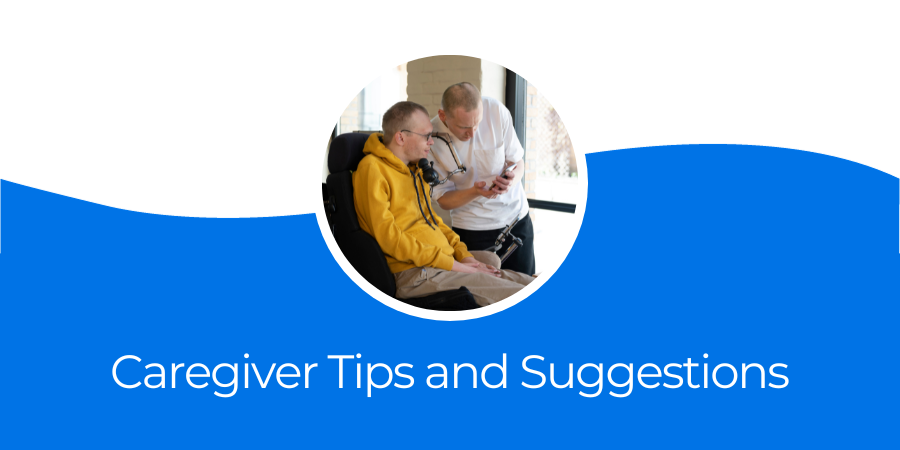 By Bob Lujano, NCHPAD Expert Inclusion Specialist
Being a caregiver does not mean that you must now sacrifice your health. If you have recently added the responsibility of being a caregiver for a spouse, parent, or other family or friend, please take time to take care of your own health as well.
My wife has recently become the main caregiver of my mother-in-law, but I also share many of those same responsibilities. As a person with a disability, I also have some secondary health conditions, so it's extremely important that I pay extra attention to my health – and my wife's health as well.
Here are some ways that I stay healthy as a caregiver:
Me time.
Once you have made the important decision to be a caregiver, make the same commitment to have some time for yourself. There is nothing wrong with having some ME time. It is this me time that can help you become a better caregiver.
Organization.
This first step is very important when you become a caregiver. Set up a daily schedule for caregiving, and schedule a time of day for meals, exercise, sleep and activities. This can help you stay organized in order to schedule that me time.
Accountability person.
An accountability person is someone who can cover your responsibilities as a caregiver AND check in on you. Make sure you have a backup person who can take over your responsibilities, even if it's just an hour or two! And have regular conversations with your accountability person ensure that you are taking care of yourself.
I am that accountability person for my wife. I help her out by preparing meals and taking her to dinner. I also encourage her to take time for herself while I take care of her mother. We also play tennis and go swimming together to get some exercise and de-stress from work.
Sleep and rest.
If you have taken care of young children, do you remember the suggestion of sleeping when the child sleeps? I definitely do! This is a good suggestion for caregivers, too. There's nothing wrong with scheduling your own sleep, naps and rest time along with the person you are providing care for. Artificial intelligence (AI) devices such as an Alexa can help with scheduling naps and activities. For people with disabilities, these devices are accessible and voice-activated.
Your health is just as important! Follow these tips and learn more about additional caregiver resources below!
Additional Caregiver Resources
NCHPAD Connect links you to free resources, communities and wellness programs specifically tailored to people with a wide range of physical disabilities. Here's what you should know.
NCHPAD Connect
NCHPAD Connect is a valuable resource that can help you and the person you are caring for to stay healthy and well.
Personalized resource recommendations: NCHPAD Connect can recommend health and wellness resources tailored to the specific needs of the person you care for. This can be a huge time-saver for caregivers, as it can be difficult to know where to start looking for inclusive health and wellness resources.
Free, online programs: NCHPAD Connect offers a variety of free health and wellness programs that focus on mindfulness, exercise, nutrition, diet and weight management. These programs can help caregivers and the people they care for to stay healthy and manage any secondary conditions.
 Expert Inclusion Specialists (EIS): NCHPAD Expert Inclusion Specialists (EIS), including Bob Lujano and Cara Riggins, provide access to free, personalized resources and programs to anyone who needs them! Learn more about Cara in our recent blog.
Additional Articles
Care for Caregivers
https://www.nchpad.org/1635/6694/Care~for~the~Caregiver
Being a Caregiver
https://www.hopkinsmedicine.org/health/caregiving/being-a-caregiver