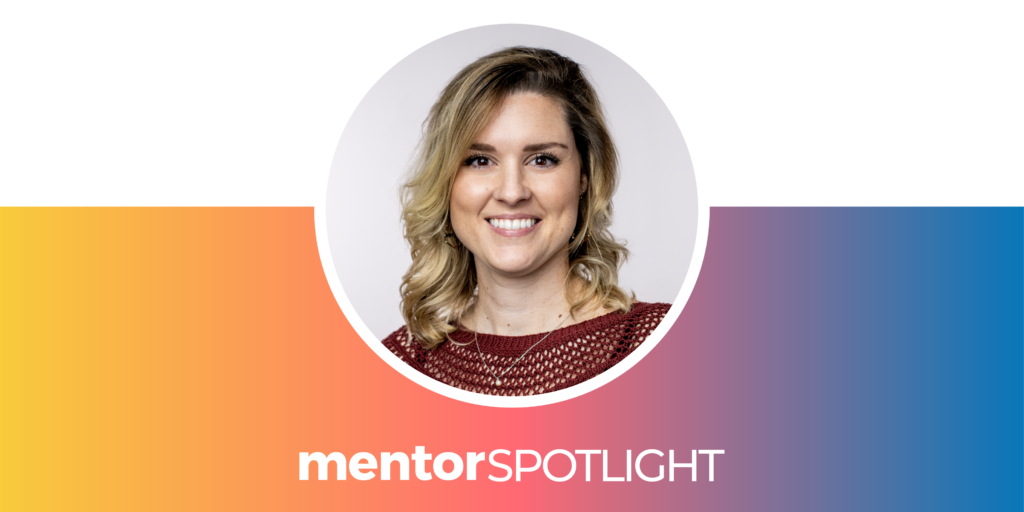 In this week's edition of our blog, we caught up with Lacey Gammon, NCHPAD Nutrition Coordinator, who has been with NCHPAD since late 2019.
Lacey's primarily role with NCHPAD is with MENTOR, where she teaches an inclusive online nutrition and basic cooking skills class to adults with physical disabilities. She also provides one-on-one nutrition counseling, writes disability-specific nutrition resources and provides general nutrition expertise.
In addition to these roles, Lacey serves as a preceptor for dietetic interns and helps develop nutrition-related partnerships.
---
Tell us about your background & education. What brought you to NCHPAD?
I graduated from the University of Alabama in 2013 with a degree in food and nutrition, then went to Samford University for my dietetic internship and Master of Public Health in 2016.
My interest in this field of dietetics started during my internship when I was at the Sparks Clinics in Birmingham and at Children's Rehabilitation Services (CRS) at the Alabama Department of Public Health. I got to work with incredible dietitians who taught me about inborn errors of metabolism, autism, Rett syndrome, cerebral palsy, spinal cord injury and spina bifida. This led me to getting my first job at CRS in Montgomery leading a feeding clinic where I provided nutrition assessments for children with disability and unique health care needs. I loved it, but I missed living in Birmingham, so I moved back to work at NCHPAD.
How long have you worked with people with disabilities?
Six years.

What program or programs do you work with? How long have you worked with that program?
I've worked in the MENTOR program the whole time I've been here at NCHPAD.
What is your favorite thing about MENTOR?
I love getting to know people from other parts of the country and learning about their culture and ideas around food and nutrition.
I also try to facilitate a welcoming space where people can share their experiences and learn from each other.
What's your favorite NCHPAD resource or video series?
I love our Snack Meals resource. It's a simplified way of eating healthy by incorporating whole foods with minimal prep. Eating healthy doesn't have to be time consuming or complicated.
I'm also really proud of our NutriLab Cooking videos. These recipes incorporate healthy foods that are proven to help prevent chronic diseases. Chef J is super entertaining!
Share a success story. Tell us about a time when you really saw your program working in the life of a participant.
I'm always thrilled to hear how participants have made small changes that make a big impact on their health. Here's some written feedback I've received from people who have completed MENTOR:
"Nutrition was where I needed the most help. I have never really been a 'healthy' eater. But since this class, my husband and I have re-evaluated our food habits and are now making much wiser choices as to what we eat."
"I not only learned about how to maintain a healthy diet, but I've also learned a lot of delicious healthy recipes that I have actually added to my diet since."
"The explanation and use of adaptive kitchen tools was useful for seeing what might help me in the kitchen."
"I enjoyed the classes from start to finish. I liked learning how to adjust my diet to make it healthier. The recipes were easy to prepare and surprised me how good they tasted."
"I realized that I don't have to feel bad about taking short cuts to eat healthier. I can buy produce that's already chopped or use frozen vegetables."
The last week of the program, I challenge participants to share a recipe that summarizes what they have learned in the class. It's been fun to see what participants come up with and applying what they've learned.
What hobbies do you have outside of work?
I play beach volleyball and host frequent ping pong tournaments at my house. I love living in Birmingham and attending food festivals, concerts and going to local breweries. I also enjoy entertaining and hosting casual dinner parties and game nights with friends.
What's your favorite food, favorite thing to cook or favorite recipe?
Over the past few years, I've been experimenting more with plant-based cooking. My favorite recipe is a veggie lasagna from Cookie and Kate. It combines all my favorite things, pasta, a creamy sauce and perfectly cooked vegetables.

What's your favorite music, movies or tv shows?
Ace Ventura: When Nature Calls is my favorite movie. I know all the words. "And you must be the monopoly guy…Thanks for the free parking!" I also love scary/horror movies. They're not just for spooky season. I could watch them year-round.
I really enjoy music from the 1970s that my parents grew up listening to. I recently discovered a new playlist on Spotify called "Tailgate With Your Dad," and it's incredible.
The TV show Ghosts is hilarious. But it has to be the British version!
What's the last book you read? How was it?
It had to be a children's book, I'm sure! My niece loves when I read to her. I'm more of an audiobook listener. The last book I listened to was The Maidens by Alex Michaelides. It's about a woman who investigates the murder of her niece's college roommate who was involved in a private student group called "The Maidens." It's a mystery thriller with a surprising twist at the end – my favorite kind of book.
Who or what inspires you?
My students. I am a preceptor for dietetic interns in the Birmingham area. They inspire me to be knowledgeable about the latest diet trends. They get me out of my routine of daily tasks to think creatively about how to incorporate nutrition education in a fun and engaging way. They bring fresh ideas and excitement to the profession and are a wonderful reminder to not lose my passion and excitement for what I do.
What's your favorite quote?
My favorite quote is actually a Bible verse that was used as our class motto in grad school. It"s Jeremiah 29:11: "For I know the plans I have for you," declares the Lord, "plans to prosper you and not to harm you, plans to give you hope and a future."
It's a reminder that no matter what plans I have for myself, God's plan is bigger. It's a reminder to have faith.
If you could switch careers for a day, what would you choose?
Before starting in nutrition, I strongly considered becoming a wedding planner. I have a Type B personality with Type A tendencies. I love to plan and organize events. Either that or a professional cat-petter, whichever comes first!